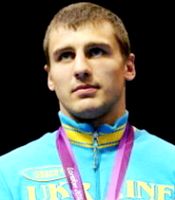 Greg Leon: We now know that you'll be fighting Doudou Ngumbu on March 30th in Philadelphia. How's everything been going in the early stages of camp? Aleksandr Gvozdyk "Things are good. You know I saw the feedback from the fans that this is not a good opponent, but I disagree with them. This is the kind of guy that if you underestimate him he's going to kick your ass. He has a lot of defeats, but you can see that all of those fights were decisions against top fighters. This is not an easy guy. I think people just underestimate him."
GL: So you're not disappointed at all that the first defense of your title isn't coming against a marquee-level opponent?
Aleksandr Gvozdyk: "No."
GL: What do you know about him as a fighter?
AG: "I saw his last four or five fights and of course this guy is not dangerous like Adonis Stevenson, but this guy can spoil the fight if you're not going to take him serious."
GL: The last time you fought a name that the American public wasn't familiar with you were underwhelming versus Medhi Amar. Does that subpar showing further motivate you for this guy? Is that why you're taking him very seriously?
AG: "Yes of course! This is a similar situation and I don't want to make the same mistake twice. I'm not looking at his record or what people are saying about him. I'm taking him serious and I'm motivated and training hard to not make the same mistake twice."
GL: So what did you see in him when you watched his last several fights?
AG: "Every fighter is dangerous and everybody can hit. This guy is very resilient and he's got great stamina to go all twelve rounds. He fights in the twelfth like he fights in in the first and he's got pretty good defense. It's not going to be easy."
GL: What did you think about Kovalev's recent victory over Alvrarez in the rematch?
AG: "He's a very good fighter and I think he did a good job with the mental part. Sometimes he would get frustrated in the ring and that comes from the mental preparation. He would throw all his punches in the beginning of the fight and he runs out of fuel. We can see that he was able to save his energy and he fought really smart, so congratulations to him."
GL: Who do you like in Bivol-Joe Smith?
AG: "Of course Bivol. I think he's smarter and faster, but he's got to be careeful because this guy can hit hard and any mistake can cost him the fight."
GL: I know that you're not looking past Ngumbu, but are you hoping that your next fight is a unification bout?
AG: "I'm not going to talk about it right now because I don't want to."
GL: Any closing thoughts for the fans?
AG: "I want to thank my fans for their support. Tune in on March 30th, it's going to be a great night of boxing!"
Send questions and comments to: Boxingtalkg@Yahoo.com