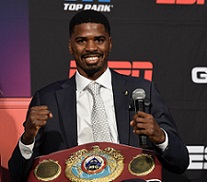 Greg Leon: How's everything going in preparation for your title fight vs. Mikkel LesPierre? Maurice Hooker: "Camp is going good, we're working hard every day and we're going to be prepared for whatever he decides to bring to the table on fight night."
GL: Have you done anything differently in preparation for this fight?
MH: "I've been keeping it like it is, just working with a lot of soutpaws this time. He's a good fighter, but I'll be ready and I'm going to shock him big time in this fight."
GL: What are your thoughts of him as a fighter?
MH: "He's a southpaw, short guy, he likes to box on the outside and he's in trouble come March 9th sitting on the outside waiting on me."
GL: What does a win in this fight mean to you?
MH: "It's another steppingstone getting me closer to my dream. It's another defense of my world title and another step towards greatness."
GL: I actually thought you were fortunate to get a draw with Darelys Perez back in 2016, that was a rough night for you, but you been on a roll since then. Did you just flip a switch or something becaue you seem like a much better fighter now than you were then?
MH: "For that fight I had a busted eardrum. I went to the doctor a week before the fight and doctor gave me eardrops to put in my ear two or three times a day. I did everything he asked me to do, but on fight night the ring was moving, the crowd was shaking, I couldn't get no balance at all. It was just a bad night for me overall."
GL: So it was more of a physical ailment than tightening uo of technique.
MH: "Yes sir."
GL: Other than victory do you have a prediction for March 9th?
MH: "I'm looking for the knockout. A lot of boxers won't say it, but I'm going to be using my jab and be smart with it but I'm looking to get him up out of there."
GL: What do you consider your biggest advantage coming into this fight?
MH: "I'm just a better guy overall. I've got better skills, I've got a good jab, I've got power in both hands. I got everything up on him and I'm more experienced too."
GL: Not to look past LesPierre, but is it your goal to unify titles in 2019?
MH: "If it comes it comes, but that's what I want."
GL: What are your thoughts on the other champions?
MH: "140 is a hot division and everybody is trying to make a name for themself. Me and the WBC champ (Jose Ramirez) was supposed to fight, but Top Rank didn't really want that fight."
GL: You know they ain't never gonna give you that fight man. You already hurt one of their ticket sellers with Alex Saucedo and they're not going to let you do that shit again.
MH: "Yeah I missed that up for them with Saucedo...(laughs)"
GL: Closing thoughts.
MH: "Be ready for a good show on March 9th and keep your eyes open because this one is going to end quickly."
Send questions and comments to: Boxingtalkg@Yahoo.com