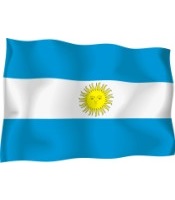 Jorge "La Hiena" Barrios will have the opportunity to return to what he loves, boxing. Barrios, who reigned as WBO titleholder in 2005-2006, was found guilty of vehicular homicide and served about three years in prison. He did not fight from 2010 through 2018. He came back with three low-level wins but has not fought since 2019. The Argentinean Barrios will step into the ring this Saturday against former WBA regular featherweight title holder Jonathan Barros at the Villa Carlos Paz Arena, in Córdoba, Argentina. The bout will be contested at lightweight.
At 44 years of age, Barrios' return to boxing is an uncertain bet, but he shows a lot of confidence and motivation. "Eleven years ago I was punished by life for behavioral problems. I carried it for 10 years, I had judicial punishment, social punishment and self punishment," said Barrios in an interview with "No Puedes Jugar Boxeo" (You cannot play boxing) to journalist Martin Coggi. "I went through a very hard time but now I am letting go and flying to happiness. For me, boxing is life," assured the veteran.
About his fight, it will be the first time that two Argentine former champions will face each other, according to data reported in the interview, which adds a historical twist to his fight with Barros. "It's very good to be able to present a show to the public even if they can't see it the arena. It is very good to give a quality fight like the one we will have. I always knew that this moment would come to be ready for a good fight. A few days ago I said to myself 'I already paid for it, I paid for it more than enough, with jail, two years and three months locked up in a maximum security prison'. I thank justice because it taught me a lesson and I never lost hope," said a very grateful Barrios.