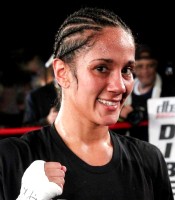 Promoter Eddie Hearn: "Welcome everybody today, huge turnout to the mecca of boxing, Madison Square Garden [in New York City]. What an honor to be back in this incredible city. Of course, last April, a night that will go down in history as one of the greatest fights, one of the greatest events in the history of Madison Square Garden, when Amanda Serrano [pictured] faced up against Katie Taylor in a tremendous fight for the undisputed lightweight world championship. This Saturday, live on DAZN around the world, Amanda Serrano will bid to make history, to become undisputed champion against reigning world champion Erika Cruz. It's Puerto Rico against Mexico. Of course, the co-main event as well, Alycia Baumgardner looking to become undisputed as well against Elhem Mekhaled of France in another undisputed matchup. 126- and 130-pound undisputed championships on the line this weekend.
"Of course, we want to thank everybody here at Madison Square Garden. Sal, and Joel, and the team. Thanks for the hospitality at the Knicks against Lakers game this week; it was a tremendous event. But it also reminds me of how great our own sport is, when we see great occasions, when we see great atmospheres, when we see great fights, and on Saturday night you've got a tremendous card from top to bottom. It's going to be packed out in the Hulu Theater, massive Puerto Rican fanbase as well coming to support Amanda Serrano. Incredible card, which we're going to be running through with you guys today. We're going to start with three young prospects that we can't wait to see in action."
Amanda Serrano
"It's going to be truly amazing. As a female fighter, I've been in this game a long time, I'm probably the longest-reigning world champion in the sport right now. I was always going where the opportunities were and now that I was done chasing the divisions, I said this is my time. I want to go back to where I feel the best, and that's featherweight. We did that, and to have most of them but one, and come Saturday night, have all of them, it's going to be truly amazing. One of the greatest journeys of my life and my career."
"The confidence that I went in there with one of the best, the confidence that the arena was jam-packed, the crowd was just amazing. So, no matter where they put me, I'm going to be 100% confident."
"I love the Hulu Theater, it's my home. I'd rather fight in the Hulu Theater because the fans are right there with you. It's so intimate and the fans are going to be celebrating with me that night.
"It wasn't just this week that I was concentrating on Erika Cruz. This whole camp has only been Erika Cruz. I know she's a tough Mexican fighter. She is the WBA champion. She has the last piece of the puzzle, I have all the rest, and we both want the same thing. We're both world champions and that's what we're going to show come Saturday night. The real winners are going to be the fans because it's going to be a fight and a fumble. It's going to be punches and bunches, and I have all the respect for Erika Cruz for taking the fight. It's a historic night for both of us and I just can't wait."
"It hasn't always been, but now it's my mindset. I want to be undisputed champion, being the first Puerto Rican undisputed world champion. That's my goal. Puerto Rico has had champions in all the divisions, the seven-division world champion, the youngest champion, and now, come Saturday, god-willing, become the first undisputed champion coming out of Puerto Rico. And it's at the weight divisions where I feel my best, I'm comfortable, it's my division."
"It's definitely going to be a great fight. Erika Cruz is a Mexican champion, she's going to come, and I'm coming guns blazing, so it's going to be punches and bunches and it's going to be an amazing night. The fans are going to be the winners because it's going to be a great night of fireworks and punches and action."
Erika Cruz
"It's an opportunity I've been looking for. On Saturday, I'm going to give absolutely everything. As a good Mexican, give absolutely everything to win. And once again, thanks to God."
"To be honest, we're not focused in any way on what people will say. We don't pay attention to what's said on social media. I'm just completely focused on my team. As soon as we knew the date was to be scheduled, knew that I was facing Amanda Serrano, there were no distractions. I'm just really delighted and really happy with God. I also have to say thanks to my father, who is always with me in every moment. On Saturday night it will be a historic moment for Mexico."
"First and foremost, I have to say that I thank God for everything that I've been through. Becoming champion would mean giving that bit back to my father. He had a dream that I would go on to become world champion. I'm so appreciative of everything God has given me and all the support I've had from people, and I hope god-willing that I can go on to be victorious on Saturday night."