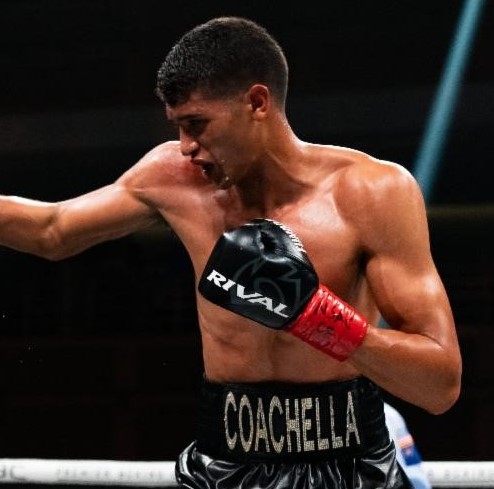 Sebastián "The Towering Inferno" Fundora (pictured) and Brian Mendoza previewed their battle for Fundora's WBC interim junior middleweight title during a virtual press conference on Monday before they meet on Saturday, April 8th live on Showtime from Dignity Health Sports Park in Carson, Calif., headlining a Premier Boxing Champions event. Two more fights round out the Showtime Championship Boxing telecast beginning at 10 p.m. ET/7 p.m. PT, as undefeated junuior welterweight Brandun Lee takes on Mexico's Pedro Campa and undefeated featherweights Luis "The Twist" Núñez and Christian Olivo square off in a pair of ten rounders. Tickets for the event, which is promoted by TGB Promotions and Sampson Boxing are on sale now and can be purchased at axs.com. Fundora has established himself as a must-see contender on the rise, engaging in exciting clash after exciting clash, including one of 2022's best fights, an instant classic that saw him stop top contender Erickson Lubin. He will face the upset-minded Mendoza, who scored a career-best victory last time out by knocking out former unified champion Jeison Rosario.
Here is what the fighters had to say Monday:
SEBASTIAN FUNDORA
"I feel like I've been proving myself over and over again. We're waiting for our shot to fight for the title. They keep putting guys in front of me who they say will knock me out or expose me, but I keep proving them wrong.
"Camp has been really good for me. We've been training hard and getting ready for another exciting fight in Carson. Just expect fireworks. I'm bringing my best, so I hope he brings his best.
"I'm always ready to go toe-to-toe. Everyone I fought has been strong guys and Mendoza is another. We're just going to go for the win like always.
"This fight is as important as every other fight before. Mendoza is a contender as well and we're not looking at him lightly. We have to get past Mendoza if we want to even think of fighting for the championship.
"Mendoza had a great performance in his last fight and he looked strong. I didn't see anything different from him really. We knew he was strong.
"I'm just building up. My dad and I had plans that we talked about and we talked about contending and fighting for a title around this age. Things are working out. We're where we want to be and just looking to get that title fight soon.
"We're going to have to see what he brings on April 8. I have to prove myself again. We both have chips on our shoulders. We want to become champions and we have to win on April 8 to do so.
"I feel like some people are trying to skip me in order for the title, but I'm remaining patient and staying focused on this fight. I just have to keep moving forward while everything else gets dealt with.
"I'm using my jab and using my distance more. I've always been able to do it, but I'm more comfortable with it now. Lubin was really in my chest, so the fight didn't really call for it. Against Ocampo I was able to use those skills more.
"We never pick anybody, I just get the assignment and go for it. Mendoza is coming off a big win and we said 'heck yeah' to the fight. It's a good fight for the fans and a good fight for us.
"Mendoza is gonna find out that I'm the next world champion at super welterweight."
BRIAN MENDOZA
"When I said I was going to add a former unified champion to my resume, people scoffed and laughed at me. I just thought, 'Okay, keep laughing.' You don't have to believe me. I'm going to show you with my actions. That's what I'm going to do in this fight. I'm gonna show that I'm one of the best in this division. That's the goal. I'm going to pull off another big upset.
"Fans can expect another explosive performance. I've had a tremendous camp and I've been killing myself day in and day out, suffering every single day making sure that I leave no stone unturned. We're just ready to go. I wish the fight was tomorrow.
"I've sacrificed so much in camp to make sure that I'm ready for whatever happens on fight night. If he tries to use his range or he tries to bang like usual, we'll be ready for anything. I've had great preparation, even sparring with cruiserweights in this camp. It's a cliché, but I will truly be ready for anything.
"His height isn't going to be an issue. I've been fighting and sparring guys taller than me my whole life. I'm usually the shorter guy at 154 pounds anyways. It doesn't make a difference. I haven't had any trouble in sparring with guys who try to keep me away or with guys who try to overpower me because they're bigger. I have too much experience and that's what's going to be the difference.
"I'm not going to go in there and play to his strengths. It's about me proving who I am to the world. The experience that I have right now is unreal. These last five years in Vegas have been tremendous. People think I'm just a hard-hitter, but I'm going to show the world otherwise.
"We're going to hear, 'And the new interim WBC Super Welterweight World Champion.' Fundora is going to learn that I'm a lot more than just a power-puncher.
"A win in this fight would mean everything. I'm trying to get to that next level and I finally feel like I have the right team around me. I feel like I have the right experience and I'm in my prime. I'm entering my prime and the time is now.
"Fighting at Dignity Health Sports Park is an honor. It's a legendary place. Tons of wars have happened there. I want to cement my name as part of one of those wars and one of those big fights that went down there. This could be a Fight of the Year type of fight. Neither of us are going to take a step back.
"I just gained a lot of great experience in the Jeison Rosario fight. He was a former unified world champion. I picked up some tricks and tips from the fight but the biggest thing I took was just the experience of being in the ring with somebody like that.
"I'm honestly kind of enjoying the whole 'B-side' experience. It just makes the victory that much sweeter."