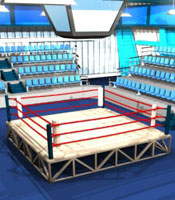 Las Vegas has no shortage of gyms to train in but for professional fighters looking for a quiet, state of the art facility, Silver State Boxing can be a place to train. The gym is less than ten minutes away from the MGM Grand Hotel and Casino and has two rings and new equipment available for use. Jesse Torres opened the gym in January of this year for his son who is a top amateur contender. The gym is available to both amateurs and pros and most recently was used by bantamweight Damien Vazquez for his training camp for his August 12th victory over Jeronil Borres on a Showtime undercard in Minnesota.
"I originally opened the gym for my son to help him with his training but it has really been growing and getting popular. We have a lot of amateurs that are training here, and we have been getting more and more professionals as well. Anyone looking for a top gym should hit us up. I also have some more upgrades coming in the near future that I don't want to reveal just yet," said Torres.
Former champion Julio "Pollito" Ceja, who is now training fighters, has also been using the gym for several months for his increasing roster of boxers.
Those interested in training at the gym can call 725-219-0729 or stop by and ask for Jesse. The address is 4325 W. Desert In Road, Las Vegas, NV 89102.