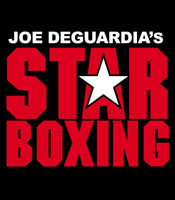 Star Boxing has announced the signing of Irish-born, New York-based super middleweight Harley "Heavy Hands" Burke (7-0, 6KOs). On March 4th, Burke will be making his Star Boxing debut in a six-round vs Oregon's Joseph Aguilar (4-1-1, 2 KOs) at White Eagle Hall in Jersey City, New Jersey. Harley was born in Galway, Ireland, but it wasn't long until he and his parents moved to the United States looking for new opportunity. Setting up shop in Yonkers just outside of New York City, Harley was raised in New York, but will never forget where he came from. "I am extremely proud of my Irish American heritage," he said. "Leaving a legacy as an Irish American fighter is one of my main motivators."
Harley laced up his gloves for the first time at the age of 11 and competed in his first amateur bout at the age of 13. He fought in the New York State Golden Gloves, but always had his sights set on fighting professionally. Having a love for the sport of boxing, Harley did whatever he could to be around it. This passion led to a stint as an intern for promoter Joe DeGuardia during Harley's senior year of high school. Having worked two of Star Boxing's fight cards in Long Island, Harley knew he wanted to be a professional boxer.
Outside of the ring Harley is a go-getter. He graduated from Archbishop Stepinac High School in 2013 and has worked as a construction laborer while building a clientele for his now successful personal training business over the last ten years. In 2022 he began his own pressure washing company. In the ring, like a pressure washer, Harley drowns you with pressure and demolishes you with his power. He turned pro in 2019 and stayed busy finding fights where he could during the pandemic. He won his last bout in July. against Brandon Maddox, by unanimous decision.
"Signing with Star Boxing is a dream come true for me," said Harley. "In 2013 during my senior year of high school I interned for Star Boxing. Ten years later I'm signing a multi-year deal with them. It all comes full circle. My main goal since turning professional 4 years ago was to sign with a prominent promoter. Joe DeGuardia's track record speaks for itself. He's built world champions. I've got the right man backing me, now it's on me to go and perform. I want to bring big nights of boxing to NYC. I can't wait."
Star Boxing CEO Joe DeGuardia had this to say about the signing, "You truly never know where talent will spring from. Harley was an intern for Star Boxing back in 2013, and I would have never guessed a decade later we would be signing him as an undefeated professional fighter. We are excited for what Harley brings to the ring and admire his accomplishments outside of the ring as well. We are confident that his talent and character will define his success as he continues to develop into bigger fights. It all starts for Harley on March 4 at White Eagle Hall, so be sure to get your tickets and come support."