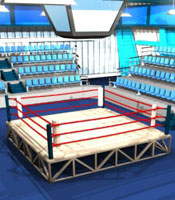 Christopher Pearson D10 Derrick Webster... On Saturday night at The Showboat in Atlantic City, New Jersey, Christopher Pearson battled to a ten-round split draw with Derrick Webster in the super middleweight division. The show took place in front of a near-capacity crowd and was promoted by Joe Frazier Jr. and Mis Downing Promotions. The bout was closely contested with Pearson landing the harder blows and very good body work. Each fighter won one scorecard by 96-94 and a third card was even at 95-95. Pearson is now 17-3-1. Webster is 29-4-1.

Shinard Bunch KO2 Abraham Afful... New Jersey's Shinard Bunch took out Abraham Afful in round two of their scheduled eight-round junior welterweight fight. In round two, Bunch dropped Afful with a hard left hook. Affull rolled on his side and did not beat the ten-count at 1:25. Bunch was coming off a slpit-decision loss in has last fight and is now 21-2-1. Afful, from Ghana, is now 12-6-1.

ADDITIONAL RESULTS
Devin Gantt remained undefeated with a fourth round stoppage over Kevin Traynor in a six-round super bantamweight bout. In round one, Gantt dropped Traynor with a hard flurry of punches. Gantt seemed one punch away from stopping Traynor on several occasions in the opening round. In round four, Gantt started unloading hard shots to the body and head that forced Traynor to take a knee and the corner stopped the bout 1:18. Gantt of Sicklerville, NJ is 5-0 with five knockouts. Traynor of Scotland is 1-5.

Nimal Farmer remained undefeated with a six-round unanimous decision over durable Nelson Morales in a welterweight fight. Farmer was dominant as he landed flurries for the better part of the fight and kept Morales on the ropes. Morales did well to stay on his feet and he started to spit out blood towards the end of round five. Farmer of Lindenwold, NJ won by scores of 60-54 on all cards and is now 5-0. Morales of Scranton, PA is 4-9

Khalid Billings remained undefeated by stopping Aaron Newmones in the opening round of their four-round welterweight bout. Billings dropped Newmones with a perfect left to the head. Newmones was badly hurt and Billings sensed it as he went right after Newmones and dropped him again, and the fight was stopped at 1:34. Billings of Queens, NY is 3-0 with two knockouts. Newmones of Atlantic City is 1-4.