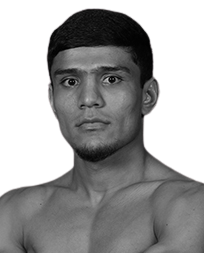 Japan's Tomoki Kameda has passed on the chance to fight in a WBA super bantamweight eliminator. As a result, the opportunity has passed to Kevin Gonzalez of Mexico (26-0-1). The WBA Championships Committee ordered the 122-pound eliminator bout between former two-belt champion Murodjon Akhmadaliev (pictured) and Gonzalez, a decision that was made on Monday, when a communication was sent to the teams of both fighters. Gonzalez is a worthy candidate, having won five straight quality bouts. Akhmadaliev is the former two-belt champion. Initially, the WBA ordered Akhmadaliev to face Kameda, but according to the WBA, Kameda decided to move up in weight. Therefore, the committee chose the next best available contender, which in this case was the Mexican Gonzalez.
The negotiation period granted to Akhmadaliev and Gonzalez is for 30 days from the moment the communication was sent. If no agreement is reached within this period or if either party refuses to sign the bout, the committee may call for purse bid with a 50% purse split for each fighters.
Marlon Tapales is the current WBA and IBF champion of the division and is expected to meet Naoya Inoue next in a unification fight. The winner between Akhamadaliev and Gonzalez will be the next mandatory challenger for the WBA 122-pound world title.
PRIOR BOXINGTALK COVERAGE
AUG. 20, 2023: The WBA Championships Committee ordered a super bantamweight eliminator bout between Japan's Tomoki Kameda and former two-belt champion Murodjon Akhmadaliev (pictured). The official communication was sent on Friday, August 18th to both teams, granting them thirty days to negotiate the bout. Kameda is ranked #1 by the WBA. Kameda (40-3) held the WBO bantamweight title from 2013-2014. After moving up to super bantam, he failed in a 2019 title bid vs. Rey Vargas. Akhmadaliev (14-3 including the World Series of Boxing) is ranked #2 after losing his WBA and IBF titles to Marlon Tapales earlier this year. Tapales still holds those two belts, while the other two belts are around the waist of Naoya Inoue.
Should both contenders fail to reach an agreement within the time limit or should either party refuse to sign the fight, the WBA may call for a purse bid with a 50/50 purse split for each fighter.