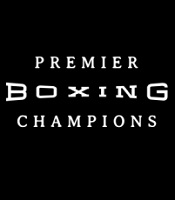 The boxers competing on the Canelo Alvarez vs. Jermell Charlo pay-per-view undercard went face-to-face Tuesday during a Los Angeles press conference ahead of their respective showdowns taking place Saturday, September 30th at T-Mobile Arena in Las Vegas. Canelo Promotions will present the Premier Boxing Champions pay-per-view. The press conference featured unbeaten Jesus "Mono" Ramos Jr. and Erickson "Hammer" Lubin, who compete in the junior middleweight co-feature, former champion Yordenis Ugas and Mario "El Azteca" Barrios, who square off for the interim WBC welterweight title, and middleweights Elijah Garcia and Armando Reséndiz, who duel in the telecast opener at 8 p.m. ET/5 p.m. PT. Here is what the press conference participants had to say Tuesday from The Conga Room at L.A. Live:
JESUS RAMOS JR.
"I was excited when I heard I was gonna fight Lubin. I respect what he's done as a fighter. He built himself back up after the Jermell Charlo fight and showed he's a warrior.
"This is what I'm here for. I'm here to prove I'm one of the best and to do that I have to beat the best. It was an exciting moment when I was able to sign on for this fight.
"People didn't really know what level I was on before the Joey Spencer fight. I had to show that I was on a different level and that I deserve to be on a stage like this.
"Hopefully with a win people will say I'm at the top of the division. That's not up to me though. I just have to keep winning and proving myself. The main thing is to keep growing as a fighter. I'm gonna take a lot from this fight and have a lot more experience. I'm gonna be a different boxer after this and I'll be ready for that title shot when it comes.
"I have good power, but I'm not relying on it. I have skills too and I'm gonna show them on September 30. I'm an intelligent fighter and everyone is gonna see that with a worthy opponent like Lubin across from me.
"I've faced tough guys like Brian Mendoza and Vladimir Hernandez, but Lubin looks like he'd be the toughest so far. He's right up there because he's got a lot of experience and we respect what he can do.
"I do feel like I'm the fresher fighter, but it's not something I'm banking on. We're working hard to be at my very best. He's been in some wars, so we'll see if he's got wear and tear from it.
"Whatever I have to do to win, I'm ready for. I'm here to dominate. I want to make a statement, and in order to do that, I have to dominate. That's the plan."
ERICKSON LUBIN
"The mindset hasn't changed for me. I still have a chip on my shoulder. I'm going into this fight very hungry. I have a young, hungry kid in front of me, but I'm young and hungry as well. You can expect fireworks on September 30. I'm looking to win and be in the big fights against the best guys in the division.
"I'm fueled by adversity. My first title challenge against Charlo brought me back to working real hard and eventually winning six fights in a row. I was winning the fight against Sebastian Fundora and losing fueled me to go back to the drawing board and work even harder.
"Ramos is a real solid fighter. I watched his last fight and I thought he looked good. But I'm not Joey Spencer. I'm one of those top guys in the division. I'm the cream of the crop and I'm here to prove myself. I want the toughest test every time out.
"I've asked for this fight even before he fought Joey Spencer. Now we have the platform and we're here. It's gonna be fireworks on September 30.
"This win solidifies that I belong at the top. It shows that I need a title shot. The winner of this fight will definitely get a big fight.
"The Luis Arias fight was a good comeback fight. I knew that with the way we trained, I was gonna dominate. That was eight weeks ago and now I'm happy we have only a few weeks to go for this one. I'm coming for another statement win.
"I'm definitely not downplaying Ramos, but I was 22-years-old like him and I took a step up in competition against a 27-year-old and fell short. I think history repeats itself, but in my favor.
"I'm looking for a one-sided ass-whooping. I want to go in there and come out with the victory, untouched."
YORDENIS UGAS
"The most important thing right now is not what people might be saying, it's that I'm healthy and happy. I'm preparing the right way for a great fight against Barrios. I don't care about anything else.
"Barrios is a strong fighter, a tough fighter and a former world champion. I'm motivated to face an opponent of his caliber.
"There's a lot at stake in this fight, but this is what I do. I go out and fight the best. I plan to take full advantage of this opportunity.
"I thought I fought well against Errol Spence Jr. and I walked away from the fight knowing I can compete against the best. I want to prove that I'm one of the best welterweights in the world.
"I promise that the fans are gonna see another exciting fight on September 30. This is another chance for me to challenge the best. Win or lose, I always push forward, and that's what you'll see on September 30."
MARIO BARRIOS
"Whenever a fight is brought to me, there's never a name that I say no to. This was no different. Ugas is a tremendous fighter and this is a huge opportunity. I was more than happy to take the fight.
"I'm trying to solidify my mark in this division. It's gonna be a tough fight on September 30. I've never seen him shy away from a fight and I have a similar style. This is gonna be an explosive one that you don't want to miss.
"We're both gonna bring it on fight night. This is an exciting card and an exciting opportunity to fight for an interim world title.
"I'm expecting the best version of Ugas. We both have a lot to prove. A victory puts us right up there with all of the top welterweights. There's a lot of good fights to be made and we're all working to get to the top of the division.
"I was learning with each fight and took a lot away from my defeats. I'm still just as hungry as ever. I had my comeback fight in February in San Antonio and now I'm looking to bring another title back home.
"It's gonna take everything to get this win. I'm gonna have to use my boxing ability, my power and my range. It's gonna be an exciting fight and I'm looking forward to it."
ELIJAH GARCIA
"I'm blessed to be on this card. I know that on September 30 I'm gonna have the toughest fight of my career so far. Reséndiz comes strong, in shape and ready to fight.
"I'm honored to be on a card with so many other great fighters. I'm preparing to be a world champion and these tough fights are what will get me ready for that.
"This has been the best year of my career. I had a big upset early in the year and then got a hard 10-round victory. Now I'm in back-to-back pay-per-view events. It's like a snap of the finger and I'm blowing up. I'm just training hard and preparing for a tough fight.
"I want to be a world champion at 21 years old. Fighting tough opponents like Armando will get me ready for when that opportunity comes. I know how hard it's gonna be, but that's the way I have to go.
"Armando is coming off a huge win and he's young and strong. I don't see why this fight wouldn't be a step up for me. I'm ready for it.
"I'm just staying humble and keeping my faith strong. I don't want to look ahead and take too big of a leap. I'm following the direction that my team is telling me to go."
ARMANDO RESENDIZ
"I expect a tough fight and I've trained for that. I hope that this is a fight that the fans will love. I want everyone to tune in and enjoy the action.
"I think that I have experience on my side, but age doesn't matter too much. When I was younger, I fought older fighters as well. How you prepare is what really matters and I think we're both going to prepare in the right way.
"I showed how hungry I was when I beat Jarrett Hurd. I have big goals in the sport. I want to be a main event staple and that was a big step toward that.
"I'm really excited to have Manny Robles in my corner. We mesh really well. You're going to see more of that in this fight. We train hard and it's reflected inside of the ring."
TOM BROWN, President of TGB Promotions
"What a night this is going to be. This is a massive event. Canelo vs. Charlo, undisputed vs undisputed. With a fight of this magnitude, we had to deliver a stacked undercard.
"These three matchups have everything boxing fans could hope for or count on for a pay-per-view undercard. Each fighter here has a chance to catapult themselves to the top of their division with a win on September 30.
"All of these fights have the possibility of being a flat-out war and could steal the show. These are three quality, competitive and high-stakes fights."