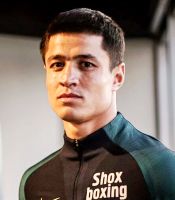 Salita Promotions is showing a willingness to go to court in order to enforce its contractual rights. The company not only filed a federal lawsuit last week, but in a span of just a few days obtained a temporary restraining order blocking junior welterweight Shohjahon Ergashev from taking another fight scheduled for last weekend. Salita was trying to set up a November fight for Ergashev (18-0) to be televised on NBC Sports as part of a new (and still not officially announced) organization known as Ring City, when Salita learned that Ergahsev had instead signed for a September 21st fight in Russia. Salita, who has an exclusive promotional contract with Ergashev, quickly filed a federal lawsuit in the Eastern District of Michigan against Ergashev and manager Oleg Bogdanov. Within a week, Salita had convinced the judge to issue a restraining order barring Ergashev from taking the fight in Russia. It appears that Ergashev obeyed the court order and the entire show was cancelled, although that is unconfirmed. The judge ordered Salita to post a $10,000 bond in case she later decides Ergashev is entitled to compensation. But so far, Ergashev does not have an attorney appearing on his behalf in the lawsuit. When Ergashev puts in a response, Boxingtalk will promptly update this article.
Dmitriy Salita himself had no comment for this article, likely because he is still interested in promoting Ergashev going forward. However, Salita Promotions was represented by attorney Charles E. Murphy, who, as part of the request for the restraining order, wrote: "Through Salita Promotions' diligent work and financial investment in Ergashev, as well as through Ergashev's own success in the ring, Ergashev has gained world-wide exposure, a loyal following, and is moving rapidly toward an opportunity to fight for the world title. Ergashev's October 2019 fight video, uploaded to YouTube by Salita Promotions, has garnered over six hundred thousand views to date... Since the inception of the promotional agreement, Salita Promotions has fulfilled all of its obligations and in fact, gone above and beyond its contractual obligations by paying for Ergashev's travel, rent, food, local transportation expenses, visa costs, previous fights in Russia and for his purses in his many wins during the life of the Agreement."
Here is the full decision from Judge Laurie J. Michelson, edited only slightly to remove certain legal citations or references:
Shohjahon Ergashev is a top-ranked boxer who [scheduled a bout for September 21st] in St. Petersburg, Russia. Salita Promotions is Ergashev's promoter. Salita says that until recently, it had no idea that Ergashev was going to fight on September 21st. [The opponent was to be Dzmitry Miliusha (9-3-1)]. And, according to Salita, this is a problem because it has the exclusive right to arrange Ergashev's bouts. And Salita has arranged for Ergashev to fight on November 17th, and have that fight broadcast on NBC Sports. Because of the potential for the September 21st bout to adversely affect the November 17th bout, and for other reasons, Salita asks this Court to stop Ergashev from stepping into the ring on September 21st.
In refereeing this fight, the Court finds that Salita is likely to show that Ergashev breached the parties' agreement and that Salita will be irreparably injured if Ergashev boxes on September 21st. So the Court will grant in part Salita's request for an ex parte temporary restraining order.
Because [Ergashev did not respond to Salita's emergency filing], the Court has only one side of the story. Here is that story, according to Salita's verified complaint:
In November 2017, Salita entered into an agreement with Ergashev to promote him. Under the agreement, Ergashev granted Salita "the sole and exclusive right to secure and arrange all bouts... requiring [Ergashev's] services." As the agreement was for five years, there are about two years left on the deal. Things went well for a time. Salita promoted Ergashev in eight fights; Ergashev won them all. Four of the eight fights were featured on "a popular boxing series broadcast on Showtime." Before his agreement with Salita, Ergashev was unranked; now, depending on who you ask, he is number six, seven, or thirteen in the world in the junior welterweight division. According to Salita, Ergashev has "gained national exposure in the United States and is moving rapidly toward an opportunity to fight for the world title." But then, Salita says, it got hit with a low blow: the promotion company learned that Ergashev was slated to fight in a bout that it did not arrange. In particular, Salita said it learned from Instagram that Ergashev was set to fight on September 21, 2020 in St. Petersburg, Russia.
Not to be outmaneuvered, Salita fought back. On September 7th and September 8th, Salita sent cease-and-desist letters to Ergashev and his manager, Oleg Bogdanov, who allegedly arranged the September 21st fight. In the letter to Ergashev, Salita indicated that it would consider fight opportunities that it did not arrange but that Ergashev needed to present those opportunities for its approval. In the case of the September 21st fight, Salita did not consent. Salita demanded that Ergashev cease and desist his breach of their agreement. In its letter to Bogdanov, Salita not only expressed displeasure about Bogdanov being involved in setting up the September 21st fight, but also that Bogdanov did the same thing with another Salita fighter. Salita demanded that Bogdanov cease and desist from any further interference with its contractual rights. Apparently, Salita never got a response to its two letters. With the September 21st fight scheduled to go forward, Salita brought the fight to federal court. And it seeks a first-round knockout; a [temporary restraining order] asking the Court to halt the September 21st fight.
Temporary restraining orders are not handed out readily. Even embracing Salita's account of the facts (which is all the Court has to go on right now), one of the preliminary-injunction factors is still a close call: whether Salita will suffer immediate, irreparable injury if this Court does not stop the September 21st fight. Salita seeks to satisfy this preliminary injunction requirement in three ways.
For one, it relies on cases finding that when a contract is for "unique and extraordinary" services, the failure of the contracting party to provide those services is irreparable harm. If a contracting party's services are truly unique, they, by definition, cannot be found elsewhere, and so the failure of the contracting party to provide them is, in all likelihood, irreparable. Salita says that Ergashev is "an athlete of exceptional talent and skill and his services are unique and extraordinary to Salita Promotions."
For two, Salita relies on cases finding that reputational injury is irreparable. That too makes sense, for a tarnished reputation is not readily restored, and, even if it is, the cost of restoration is hard to quantify.
For three, Salita says that when it promotes a fight, its name appears on all sorts of promotional material, and Dimitry Salita, the company's principal, is often interviewed before, during, and after the fights. So Salita argues, if Ergashev were to fight on September 21st, it would lose self-promotion opportunities that are "not measurable in money damages."
Setting aside for the moment the possibility that Ergashev might be drained from, or injured in, or lose the September 21st fight, the Court is hard pressed to see how Salita's reputation would be damaged if that fight goes forward. Salita's reputation is based on promoting boxers and fights. So the September 21st fight would make Salita look bad if the fight is (1) poorly run and (2) those in the boxing community thought that Salita had run it. But aside from the fact that Ergashev is a Salita fighter, Salita has put forth no evidence that anyone in the boxing community would be confused in that way. Indeed, it appears that the fight is being promoted by Yuka Promotions. Perhaps Salita thinks that if its fighters routinely take fights outside their agreement with Salita, it gives the impression to the boxing community that its fighters do not like the fights it arranges or that Salita fails to get enough action for its fighters. But one fighter's breach is not a pattern. So without more explanation from Salita, it is far from clear how the September 21st fight would hurt its reputation as a promoter.
That said, the Court does narrowly find that Salita has shown immediate, irreparable injury if the September 21st fight takes place. Ergashev appears to be quite highly ranked, with two [sanctioning] organizations placing him in the top 10 in his division. He has no losses on his record, and so he has a chance to become the top contender. Arguably then, his services to Salita—a top-ten fighter in the junior welterweight division—are unique and thus difficult to replace. Of course, even if Ergashev fights on September 21st, that does not mean that Salita will need to replace his services. In theory at least, Ergashev could fight on September 21st and still fulfill his duties to Salita by fighting in every fight Salita wants him to. So this situation is not exactly one where a contracting party with unique talent takes his services elsewhere. But, with an additional fact and bit of foresight added to the mix, the situation gets close enough to that situation for present purposes. Salita has set up a fight for Ergashev on November 17th. The fight will be aired on NBC Sports. And while some do not think much of Ergashev's opponent on September 21st [Dzmitry Miliusha] the history of boxing is littered with big upsets (just ask James "Buster" Douglas or Andy Ruiz, Jr.). Presumably the November 17th fight was set up based in part on Ergashev's current rankings and his undefeated record, so a loss might make the November 17th fight a no-go. Or, because it would blemish Ergashev's undefeated record, the November 17th fight might lose a lot of its luster. Also, boxing matches are often grueling, physical events that, at this level, do not occur less than 2 months apart. So even if Ergashev wins on September 21st, his opponent could catch him with a blow that injures Ergashev. Or Ergashev could injure himself (say, by sustaining a boxer's fracture). Or he could just not be physically ready, especially where he will be traveling from Russia to the United States.
And if Ergashev loses or is injured on September 21st, that would result in irreparable—or at least very hard to quantify—injury to Salita. Salita would presumably have to break its contract with NBC Sports.
And Salita would lose the opportunity to engage in its usual self-promotion, which, the Court agrees would be challenging to measure in dollars. And Salita's reputation for setting up fights would take a hit, which could damage Salita's ability to make deals with, say, sports networks, as well as individual fighters. Presumably too, Ergashev's November 17th opponent, his opponent's manager, and his opponent's promotional company will not be pleased with Salita. One other point favors a finding of irreparable harm. In signing his agreement with Salita, Ergashev acknowledged that his services were "special, unique, extraordinary, irreplaceable and of peculiar value, and that in the event of [his] breach or threatened breach of [his agreement with Salita], [Salita] would suffer irreparable damage." While this admission is by no means dispositive, it may be treated as evidence that supports a finding of irreparable harm. In sum, the Court narrowly finds that absent an injunction, Salita will suffer irreparable harm.
The other factors for preliminary relief can be addressed without extended discussion. Start with likelihood of success on the merits. On the record before the Court, Ergashev is plainly in breach of the parties' agreement. The agreement expressly states that Salita has "the sole and exclusive right to secure and arrange all bouts . . . requiring [Ergashev's] services."
As far as prejudice to Ergashev from being unable to fight on September 21st, the record is devoid of how skipping that fight will cause him harm. It is probably safe to presume that Ergashevwill lose his purse and that he may burn some bridges with the fight's promoters. But, perhaps, the fight in Russia can be rescheduled after November 17th. Or, perhaps, the fight can still go forward if Ergashev negotiates for Salita's approval. Moreover, when he signed the contract, Ergashev agreed that Salita, and Salita alone, would be his promoter. So any prejudice to Ergashev from missing the September 21st bout is partly his own doing. Finally, the Court will mitigate prejudice to Ergashev by requiring Salita to post a $10,000 bond; that money will be used to offset damages to Ergashev if it turns out that he should have been allowed to fight on September 21st. Finally, in terms of the public's interest, it is not clear how it would benefit the public for Ergashev to breach his contract with Salita and, absent some showing of efficient breach or the like, there is a public interest in holding a contracting party to its promises. Further, the public probably has more of an interest in seeing Ergashev fight on November 21st than it does on September 21st.
There are two loose ends to tie up. Salita's counsel must certify in writing any efforts made to give notice to Ergashev and Bogdanov and the reasons why it should not be required. Salita's counsel says that on September 16th it emailed Ergashev and his manager a copy of the verified complaint and motion for temporary restraining order and attempted to call Ergashev and Bogdanov in Russia. As far as the reasons notice is not required before this order issues, the Court recognizes the difficulty of reaching Ergashev and Bogdanov in Russia and that the fight is only three days away.
The second loose end involves Ergashev's manager, Bogdanov. Salita wants the Court to enjoin Bogdanov too. But the Court has not mentioned Bogdanov in its analysis for two reasons. For one, the Court is not entirely convinced that it may, consistent with the Due Process Clause, exercise personal jurisdiction over Salita's claims against Bogdanov, who lives in Russia. And while Ergashev consented to this forum when he signed his agreement with Salita, it appears that Bogdanov did not sign the agreement. For two, the Court need only enjoin Ergashev to stop the September 21st fight, and that is the only thing in this case that requires the Court's attention today.
For the reasons given, the Court will grant in part Salita Promotions' motion for a temporary restraining order. Specifically, the Court ORDERS the following: (1) Shohjahon Ergashev is restrained from participating in the September 21, 2020 bout at the Azimat Hotel in St. Petersburg, Russian Federation; (2) Ergashev is restrained from destroying, erasing, or otherwise making unavailable, any documents or information in his possession or control which pertain in any way to Salita Promotions' claims in this action (including all digital information, whether that information is on computer storage, in an email or social-media account, or on a cell phone); (3) Salita Promotions is to immediately post a $10,000 bond [Salita should either pay $10,000 to the Clerk of Court or obtain a surety bond in the amount of $10,000 and docket proof that the surety bond has been obtained]; (4) Salita Promotions is to immediately use every reasonably available means (phone, email, social-media direct messaging) to give notice of this injunction to Ergashev and Bogdanov, and shall continue, on a daily basis until this order expires, to attempt to provide Ergashev and Bogdanov a copy of this order; (5) all parties are to meet in a good-faith attempt to resolve this matter without further court intervention; a report of that meeting shall be docketed by September 25, 2020; (6) this temporary restraining order expires 14 days from entry without further order from the Court.
So Ordered on September 18, 2020 [by] Laurie J. Michelson, United States District Judge.