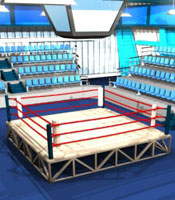 Thomas LaManna TKO5 Juan González... New Jersey boxer/promoter Thomas "Cornflake" LaManna (30-4-1) scored a fifth-round stoppage over tough Juan González (22-15 in a scheduled ten-round middleweight contest at La Terraza Sports Bar in Agua Prieta, Sonora Mexico. LaManna dropped Gonzalez a total of three times in the fight when finally referee Serigo Arreola halted the actionat 1:12 of the fifth. The bout was scheduled originally in the junior middleweight division (154 pounds), but with a last-minute struggle of LaManna to make the weight, the bout was approved for middleweight.
LaManna said: "My body just wasn't able to do it, I can't make any excuses but I'm just glad I was able to fight and win. Maybe it was because of Covid, I'm not sure but it was very difficult for me to drop the last-minute pounds, it's like my body was telling me no, either way I got the win over a tough Mexican who was not trying to go out. I was glad to get the rounds and now I look forward to something big in the first quarter of the year in the junior middleweight or middleweight division."
LaManna continued, "I felt pretty good during the fight, the weight didn't really have a impact on me but I think when I rehydrated it's like I blew up with all liquids and I looked sloppy. I hurt my hand in the second round so I couldn't use it like I wanted too. No excuses, a win is a win and also a lesson."
When asked to LaManna about any particular future opponents in mind, it was very clear who he wanted next. "I want Erislandy Lara. Hands down, that's who I want for the [regular] WBA title, so we'll see what happens. I was supposed to get the fight after I made his teammate Brian Mendoza look like a novice on national TV, but they took it from me. I did what I had to do, get myself right back to position and this time is all or nothing." source: rising star promotions