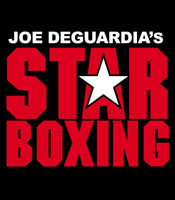 Tomorrow (March 17th) in Pittsburgh, Pennsylvania, StarBoxing.TV will air a super bantamweight bout featuring Oleh Dovhun against Juan Centeno at the Priory Grand Hall. The show is presented by Integrity Fighter Management and Star Boxing. Dovhun of Pittsburgh via Ukraine has wins over Daron Williams (7-0), Glenn Dezurn (14-2-1) and, in his last bout, a 10-round split decision win over Geram Eloyan a year ago.
Centeno of Miami, Florida is 8-6-3 with one knockout. The 27-year old is a native of Miami by way of Nicaragua. Centeno has a wins over three undefeated fighters in Abel Aparicio (8-0), Luis Rivera (7-0) and Fernando Bahena (4-0-1). The wins over Rivera and Bahena are the two most recent results for Centeno, with the Bahena fight taking place on January 21st in Commerce, California.
The undercard will be headed by super middleweight Kiante Irving (11-0-1, 11 KOs) taking on Devaun Lee in a bout scheduled for six rounds. From Beaver Falls, PA , the 29 year-old Irving is coming off a third-round stoppage over Brent Oren on October 29th.
Lee of Jamaica, Queens, New York is 10-8-1 with five knockouts. The 35 year-old Lee was a contestant on The Contender, and has wins over Ian Green (8-0), Chris Galeano (10-0), Giovanni Lorenzo (37-7) and Carlos Rafael Cruz (17-1). In Lee's last outing, he lost a ten-round decision to undefeated Timur Kerefov on September 24, 2021 in Broken Arrow, Oklahoma.
In four-round bouts, popular heavyweight Joseph Turk (2-0-1, 1 KO) of Pittsburgh takes on Isaiah Margheim (1-2) of Sandusky, Ohio.
Eric Palmer (16-16-5, 2 KOs) of Uniontown, PA fights Jordan Zlacki (2-5, 1 KO) of Springdale, PA in a junior middleweight fight.
Former Pennsylvania Golden Gloves champion Devon Siegfried of Baden, PA. makes his pro debut against Matteo Gardner of Greensburg, PA in a cruiserweight battle.