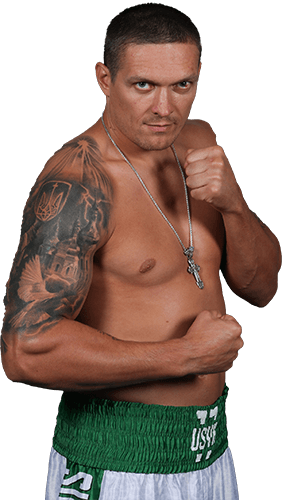 The president of the WBA, Gilberto Jesus Mendoza, announced that the representatives of three-belt champion Oleksandr Usyk (pictured) and WBC champion Tyson Fury will have until April 1st to agree on the terms of a world heavyweight championship unification bout. If that deadline is not met, the WBA says it will order Usyk to defend against WBA regular champion Daniel Dubois. According to the WBA, "Last March 10th was the deadline for the initial negotiations granted by the WBA. After the WBA announced the situation, Usyk and Fury's teams contacted each other to inform that the pact was on its way and that the fight was going to take place. Now, the WBA has given them this new deadline that expires on April 1st and hopes that the fight can take place, since it is what the fans are asking for and what the whole boxing world is waiting for. If it does not take place on the agreed date, the entity will call Usyk to negotiate with Dubois as the internal regulations state."
PRIOR BOXINGTALK COVERAGE
MARCH 13, 2023: After three-belt heavyweight champion Oleksandr Usyk agreed to take just 30% of the fight revenue in order to get a world unification fight signed with Tyson Fury, the WBC champion added a new condition to the deal: no rematch clause. Fury said this in an IFL-posted video: "Hi, Tyson Fury here… just a quick one. I've been speaking to the lawyers today. Usyk's people are talking about rematch clauses and all that bollocks. Here's one to up the ante. How about there is no f----n rematch clause for both of us? Let's up the ante completely-- never worry about what's in the future and how many more dollars you can get after you've been defeated. Worry about the fight April 29th. No rematch clause, the winner takes the glory, the loser goes home with his d--k in his hand. How about that? Agree to that, you f----n bitch."
Fury's latest condition came a couple of days after Usyk said in an IFL video that he would take the short end of a purse split to unify the world heavyweight championship: "I accept your offer. 70/30 split. We'll do it April 29th in Wembley (London). But you will promise to donate to the Ukraine one million pounds immediately after the fight... and every day, if you delay, you will pay one percent from your purse to the Ukrainian people... Deal!"
Earlier in the day, negotiations for the proposed world heavyweight unification bout between three-belt champion Usyk and the more popular WBC champion Fury went public, with Fury disclosing his negotiating stance in an IFL-posted video. Fury said: "I see all this talk of boxing fights they want 50 percent, Usyk's all this and Tyson's being greedy. But where I'm standing, Usyk, you and your team are worth 30 percent. You either take it or you leave it. And if you don't want it, go fight [WBA interim champion] Daniel Dubois at the Copper Box and get a few million dollars. [But if] you want to make some real money, come and fight the Gypsy King. But I will say, for every day from today that you linger or mess around, I'm going toa deduct one percent from the 30 percent, so every day, I'm going to deduct one percent until you take it. And if you don't take it, fight Dubois for two million dollars, not a problem. But how in the world could youse ever offer me a deal? Not possible… tick tock, tick tock."