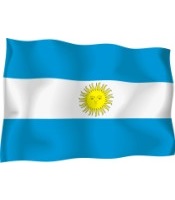 On Friday, June 9th, Nazarena "Capricha" Romero of Argentina will challenge the (very beatable) WBA super bantamweight division champion, Mayerlin Rivas of Venezuela, as part of the WBA's KO Drugs International Festival, to be held at the Buenos Aires Casino. "This opportunity represents everything for me," said Romero, who is 13-0. "It's very important. I always wanted it, I always wished for it, and now it has come my way. It represents a before and after for me, for my career and for my family."
In December 2020, Romero won the WBA interim championship, but that title seemed to disappear after that. To become a legitimate champion, Romero will have to beat Rivas (17-4-2). "When I became a professional," Romero says, "I looked at who was in my category and there was her (Mayerlin Rivas). Since then I knew that if I wanted to be world champion I had to beat her".
Romero's last bout had no complications, as she dispatched Julieta Inés Cardoso in three rounds in Córdova, Argentina. Cardoso is now 12-7 with five straight losses. "I would have preferred that fight not to have been made, but it was. But it suits me. I always take everything well and positively.
Romero will try to dethrone Rivas, and to do so, she will bet on the power that has allowed her to win seven fights by KO. "I think she has me very well studied and she's going to wait for me to attack her to see where I make the mistake and counterpunch me. I'm guessing she's going to do that. But I have a lot of tools, so it's going to be a tough, sharp fight. My prediction is that it's going to be a great fight, that it's going to be very good and that the one who deserves it is going to win," she said.
The WBA KO Drugs International Boxing Festival will turn Buenos Aires into the world capital of boxing this June 8th and 9th. The fight between Mayerlin Rivas and Nazarena Romero will be broadcast by TyC Sports, through its channels TyC Sports and TyC Sports Play, in its "Boxeo de Primera" series, while the worldwide subscription platform DAZN will rebroadcast the Rivas-Romero fight.