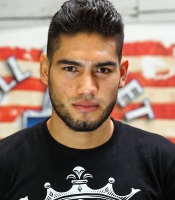 The first super middleweight champion of Mexican descent, Gilberto "Zurdo" Ramirez (41-0, 27 KOs) is all in for a potential WBC interim light heavyweight title fight against 2012 U.S. Olympian "Sir" Marcus Browne (23-1, 16 KOs). The WBC ordered Ramirez (pictured) vs. Browne this past Monday because reigning WBC/IBF hampion Artur Beterbiev (15-0, 15 KOs) hasn't defended his title since October 18, 2019, due to a number of postponements. Beterbiev now has the coronavirus. Ramirez and Browne have until February 5th to work out a deal before it'll go to purse bid. Martinez is promoted by his own company, Zurdo Promotions, while Browne is represented by PBC.
"This is an interesting opportunity and I'm ready to fight anyone in the light heavyweight division to leave my mark on the sport," Ramirez said. "I know Marcus has been out of the ring for a while, but he's a U.S. Olympian and still one of the best in the game. I know he's wanted this fight for a while and hopefully we can make something happen. It's always been my dream to get the green belt (WBC) and bring it back to Mexico. I have a lot of respect for the WBC and Mauricio Suliman and I am grateful for all their love and support throughout my career."
Last month, Ramirez fought for the first time in 20 months, stopping Alfonso "El Tigre" Lopez (32-4, 25 KOs) in the tenth round.
A talented southpaw as well, Browne was a decorated U.S. amateur out of New York City, who won gold medals at the 2010 U.S. National PAL Championships and 2012 U.S. National Championships, prior to representing the U.S. at the Olympic Games in London. Browne, 30, is a past WBA interim titlist. Browne's last fight was August 3, 2019, when he suffered his first loss as a professional to former world champion Jean Pasca via an eight-round technical decision, after Browne suffered a severe cut over his left eye from an accidental head-butt.
"There are always challenges to making a fight become reality," Ramirez concluded, "but me being both the fighter and sole promoter, I'm flexible on the common problems that takes to make a fight. I'm not sure how much time Marcus will need to be ready, but both time and location can be determined when the other preliminary items are agreed upon. If it goes to a purse bid, I'm ready for the process and, hopefully, this fight can happen for both of us."